Posted by Nikki Parkenson on 28th Nov 2022
These are the magic pants you need in your wardrobe this autumn-winter
Sponsored by Motto
When Motto co-designer Lauren Browne contacted me to suggest I write about the label's best-selling, super-stretch ponte magic pants, she had my curiosity piqued.
I am, after all, the Queen of the Soft Pant. It's been a life-long wardrobe quest of mine to get my butt, legs and tummy into pants that look good, while also harnessing superior levels of comfort. It's when this combination of style plus comfort comes together, that the magic happens.
I implicitly trust Lauren and her mum (the creative geniuses behind this independent Australian label) but I did wonder, just how different could these pants be from every soft pant before them?
Motto black strong hold shaper pant | Motto silver dry knit sunset tunic | Motto tapestry print wrap scarf
The day the pants arrived by courier, it was a Brisbane stinker. The kind of day that you just really don't feel like trying any clothes on, let alone clothes that cover up your arms and legs.
But I am nothing, if not a professional. I cranked up that aircon and whipped on those aforementioned magic pants.
OH. MY. GOD.
Seriously. I could feel Lauren and Faye telepathically saying, "I told you so".
Motto silver dry knit sunset tunic (I'm in size 14)
The very feel of them personifies comfort but then you pull them easily up over your legs, butt and tummy, something quite powerful happens. Your bottom half feels lifted, sculpted and supported but not in a way, in which breathing becomes an optional extra.
You know that feeling, don't you? When a garment makes you look fantastic and super confident but has you dreading sitting down, standing up, eating a big lunch … or even breathing.
You also dread that any sculpting powers offered by said garment only serve to re-allocate the bits you were seeking to sculpt – and not in a good way.
Motto black strong hold shaper pant | Motto pink dry knit scoop back jumper | Motto patriotic print wrap scarf
Just days after first trying on these pants of power, I was on location for this photoshoot and popped them. I fell in love all over again.
And couldn't stop sharing their virtues with all those around me. Umm, it was just my photographer, Sarah and I. Sorry for the gushing, Sarah. But THEY'RE REALLY good. Like REALLY. Can't stop. Won't stop.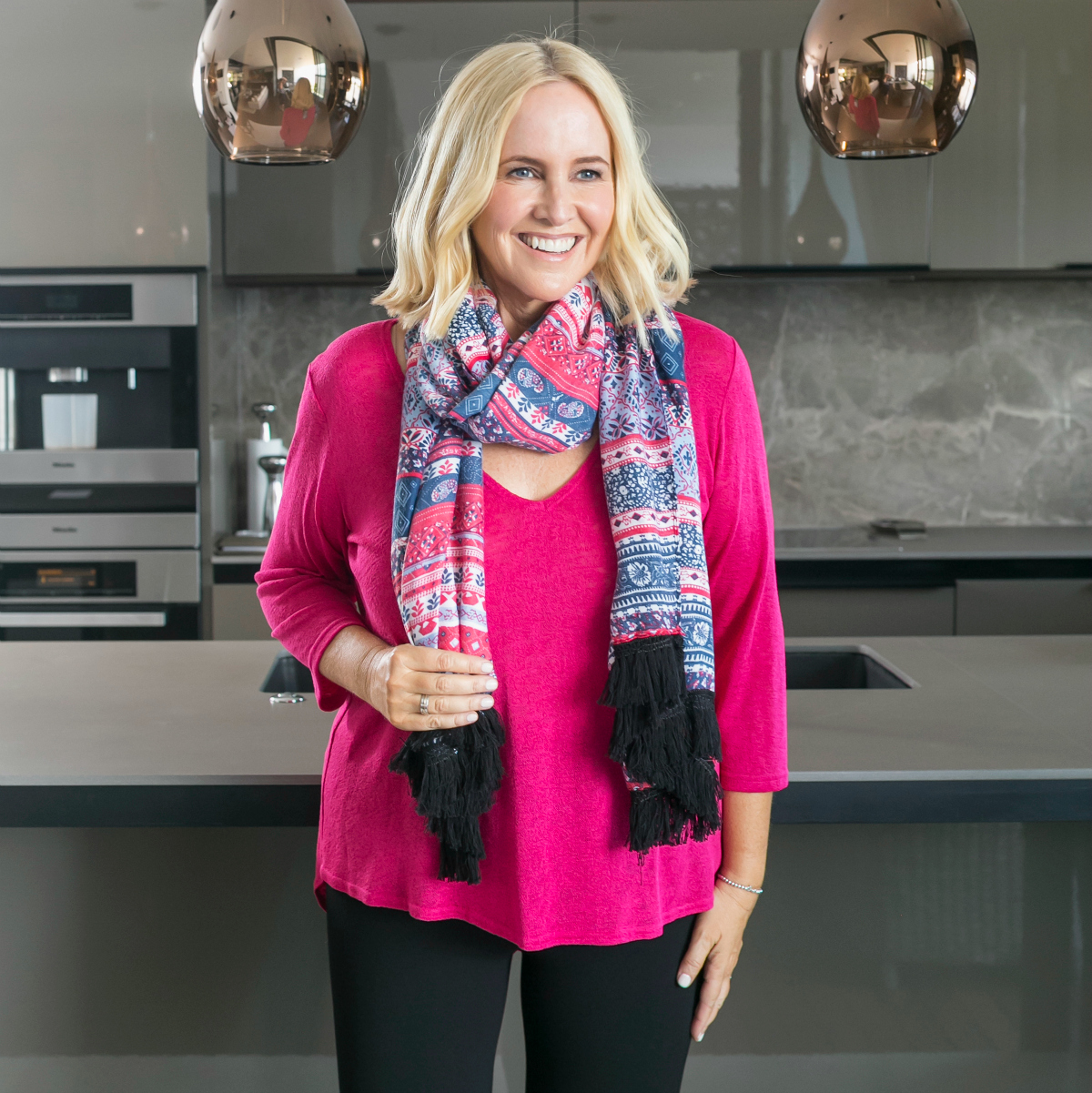 Motto pink dry knit scoop back jumper (I'm in size 14) | Motto patriotic print wrap scarf
What makes this pants so magical? They're made from real ponte. Turns out there is ponte and there is ponte. THIS is ponte – a fabric mix of nylon, viscose and elastane that provides a soft, warm finish.
Think high-end sportswear fabric but in a fashion pant that can be dressed up or dressed down. The wide waistband offers extra support – and helps the dreaded pant downwards creep that can happen in similar styles, particularly for women like me who possess the polar opposite of a peach-like Kardashian backside.
My hot tip to you: the key in getting the most magic out of these pants is to buy firm. I've gone down a size to a 12. Do not fear dropping a size. They will not feel constrictive, they'll just feel firm and uplifting.
Wear them as you would wear a legging – under frocks or teamed with a tunic. Dress them up with a heeled boot or down with a sneaker or a brogue. Layer a blazer or longline cardigan over a tunic and add a scarf for an effortless winter style look.
When it comes to searching for the ultimate cold-weather travel pant, search no more. This is it. You can easily sit down for a long-haul flight in economy and not feel in any way uncomfortable. They don't crush or need ironing, so you'll arrive at your destination feeling and looking fresh.
Having written more than 800 words about these pants, I realise this blog post could have been super short. I could have said: these are the magic pants you need in your wardrobe this autumn-winter. BUY THEM. You won't regret it.
Because, you won't. You really won't.
The End.